Press
Praise for Fire on the Beach
"Far more than mere history, Fire on the Beach is a grand American adventure story, perfectly paced and surely told, filled with lore, meticulous detail and a dozen perfect storms."
Tom Franklin, author of Hell at the Breach, Smonk and Poachers
"Meticulously researched and written with power and beauty, Fire on the Beach captures the story of men, the sea, and the dedication and pride of a group of African American 'surfmen' who set the standard for courage and performance in one of the world's most dangerous jobs."
Marita Golden, author of The Edge of Heaven
"Wright and Zoby's tale of the Pea Island surfmen's heroic struggles against racism and the sea is wise, brilliantly crafted and as gripping as any maritime adventure novel. This is history at its best."
Stephen O'Connor, author of Orphan Trains: The Story of Charles Loring Brace and the Children He Saved and Failed
"I have been a resident of North Carolina for over 12 years and had never heard of Richard Etheridge and the Pea Island Life Savers. The book Fire On The Beach by authors David Wright and David Zoby is a very important history lesson not just for those of us living in North Carolina but also for people living all over the world."
RAWSISTAZ Bookclub Review
"Fire on the Beach is a compelling read about heroes and scoundrels, seafarers and soldiers, pride in doing a job and prejudice toward those who strove to prove themselves equals. With exhaustive research, the authors have brought to life an important chapter in seafaring history."
The Virginian Pilot (Norfolk)
From Amazon.com
Fire on the Beach is a wonderful book on a forgotten piece of history. Stationed on Pea Island, near the hazardous "Graveyard of the Atlantic," the men of the segregated Station 17 showed that African Americans were just as capable as their white peers when it came to saving the lives of sailors and passengers whose ships foundered on deadly shoals. Their leader was Richard Etheridge, an inspiring figure. Much of the book is a reconstruction of his life, and Civil War buffs will appreciate the extensive treatment given to his military service.
Yet Fire on the Beach is not a mere biography. It's a fascinating portrait of 19th-century Outer Banks culture, long before these isolated little towns became tourist destinations. Fans of The Perfect Storm and Isaac's Storm—books that mix thrilling sea stories with calamitous weather—are sure to enjoy Fire on the Beach.
From Library Journal
This true-life story is akin to Sebastian Junger's The Perfect Storm, except that the storm here is on shore as well. The story roils with the terrifying racism of slavery's aftermath. This mix of personal and institutional biography brings to life the daily challenges and triumphs of blacks pushed aside, but no less valuable, in a New South.
From Booklist
Wright and Zoby recount an extraordinary story of perseverance, courage, and professionalism in the face of extreme racial prejudice. The authors have revived a remarkable long-forgotten chapter in the annals of African-American history.
BET Television Clip on Pea Island Surfmen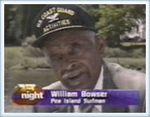 Watch Video
Buy the book